May 8, 1999 = Last time Captain does New Orleans Links as Captain
(but will do it again as Sandy)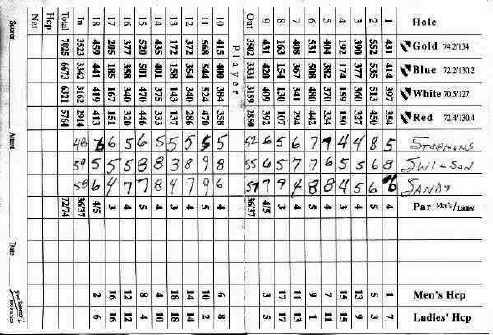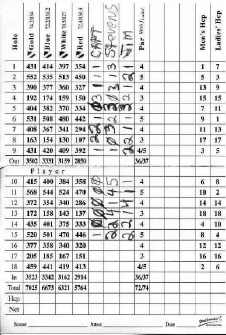 From: Jim
To: Rod
Rod,
The most popular page on my website is your golf page. Thinking about charging admission to it.
May be able to get some retirement income from it.
IF YOU CAN IMPROVE YOUR GOLF SCORES!!!!
L&S,
j




Background = Rod Accuses Jim (possibly unjustly) of:
Day 1 = Not Putting the Whole Golf Card on His Web Page;
Day 2 = Putting the Back Nine on Twice & Making it Look Like the Full 18; and
Day 3 = Putting the Full 18 on but Duplicating His Back Nine Score & Putting it into His Front Nine Score to Make it Look Like Rod Shot his Back Nine Score on both Nines
Date: 5/10/99 8:01:51 AM Central Daylight Time
From: Walker, Roderick LCDR
To: MendyOrJim@aol.com
Jim,
I did not see our scores for the front nine on the CAPT golf outing on the golf page. I purposely did not rub it in when I shot a "45" on the front nine of Lakewood, which qualifies as my best nine ever in my life, because it was the CAPT's golf day. Could you please include the front nine so that visitors of the golf page can know that I did have half of a great outing?
That would be the humanitarian thing to do. Thanks.
Rod
PS. you know, this golf page thing is really nice! Can you show me how to do one?
RODERICK E. WALKER, LCDR

Date: 5/10/99 6:30:19 PM Central Daylight Time
From: Mendy
To: RWalker@D8.uscg.mil
Rod,
That is a great request, but you should have figured out by now that Jim is not Hu Man To Anyone.
L&S,
Mendy

Date: 5/10/99 7:15:27 PM Central Daylight Time
From: Jim
To: RWalker@D8.uscg.mil
WHO IS THIS REALLY???
Why are you using Rod Walker's e-mail address?
I know it is not Rod cause I saw the words "45" and "Please" in the e-mail. Either one of those words is a direct giveaway that this was a fraudulent e-mail.
Further, Rod would know that you can't train an "M" guy to do anything, let alone a web page. Hummmph!!!!
Whoever you are, you did point out that I left something out of Saturday's golf day. I have corrected that error & thanx for pointing it out.
Jim

Date: 5/11/99 9:08:34 AM Central Daylight Time
From: Walker, Roderick LCDR
To: MendyOrJim@aol.com
Its a good thing that you don't have to do a lot of "fixing" for survival. I strongly suggest you let Mendy do the driving in your household because you obviously can't see. However, I won't cry over spilled milk...you know I shot 45 and you hate it, that's why you refuse to acknowledge it on "my" webpage. On to better things.
Did you see the information on the Annual D8 Golf tourney? We should take a weekend and play those courses to get a leg up on the competition for the tournament. If we start now, by tournament time in Sep you should at least be able to get one 5. Let's talk about it.
Rod
PS. After reading the first letter on the golf page again, you asked a question about when my birthday was. Well its this Friday, 14 May. I will be expecting at least the one and a half golf balls you promised- you can make it two or three to keep things simple. rew
RODERICK E. WALKER, LCDR

Date: 5/11/99 7:35:04 PM Central Daylight Time
From: Jim
To: rwalker@d8.uscg.mil
Rod,
I don't understand why you were shooting a 45 on the golf course. Well, maybe I do, you have peedoff enough people by yelling at them & scaring them off the greens! Self-protection = yah.
As per the Annual D8 Golf tourney = who would my partner be? And why would I want to shoot something as high as a 5? Do they have par 6s on that course?
Rod, talked to Mendy about the one & one half golf balls I was planning on getting you for your birthday. She vetoed that idea after I told her about your later rounds and your water problems. She said she wants me to get you a present that will last a little while. We are searching the web to find where we can buy some floating golf balls. (This was at my suggestion after she suggested we buy you some golf balls with rubber strings on them like a paddle ball has. I explained how you could hurt your partners when you hit the ball sideways.)
By the way, I don't understand your problem with your golf page. Have you checked it lately?
L&S,
j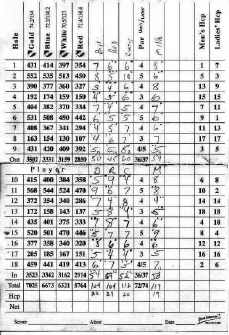 You are trespassing on Rod's Golf Page 4