Saturday, October 02, 1999
Rod & Jim & Joe & the Preacher James do NAS NOLA Links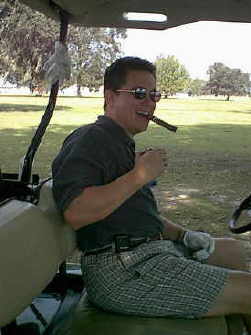 Joe gloats about his 440 yard drive on #14 = he looks for his ball beside the green = only off by 240 yards Joe!!!!!!!! = but nice cigar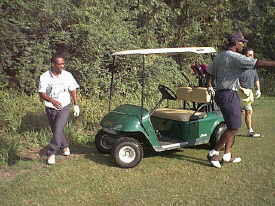 Preacher James attempts to part the woods with his golf cart - takes 5 people to get golf cart out of the ditch = try the Red Sea next time Preacher!!!!

ALSO = 2 Star Admiral tees off and hits a long one - into the front of Rod's & Preacher James' golf cart. Ball deflects off front of cart & barely misses James' head. Rod chases 2-Star Admiral off of course hollering "4, 4, 4, don't you know how to say 4?". 2-Star Admiral will never golf NAS NOLA again, & he owns it.

Saturday, October 16, 1999
Rod & Jim do NAS NOLA links
Lesson Learned = NEVER let Rod play with a pencil and the official score card once the round is over. The last thing he said is "back nine - Bingo Bango Bongo - Jim 37 - Rod 8" before he reached for the pencil. SURE ROD 45 to 45!!!!!!
Even my Senior Chief brother won't believe you on this one.



You are trespassing on Rod's Golf Page 11