Reset to Zero on February 3, 2003
Rod,
Last night I was going over the golf score sheet from yesterday's
match. I began to feel bad when I realized that you sacrificed 3 new
balls and your score at the pond on the par 3 number 8 merely to
educate me on the meaning of "Splash" and where it belongs in the
hierarchy of birdie, par, bogy.
Further, I felt sorry for you when the Commander told you the drop
zone on the other side of the pond was the sand trap. I am not a
member of Lakewood but my common sense tells me the sand trap
was not the official drop zone. I feel I should have intervened earlier
but did not due career concerns.
Since I had the score card, I changed your score on number 8 to
more closely reflect your golfing ability. I declared each of your three
tee shots to be mulligans. I then removed any penalty strokes
associated with those tee shots. By doing these things I was able to
lower your score on the par 3 number 8 to 12 strokes. Please don't
thank me -- I do not consider this a favor but a duty.
I also had a discussion with Mendy concerning reimbursing you for your lost balls. She felt I probably did owe you something for the lessons on the par 3 number 8 but she thought the cost of three brand new balls was an excessive reimbursement. In her opinion, if you intended to purposefully knock three balls into the water you could have either knocked them closer to the bank where they could be retrieved or used old balls. After a heated discussion on the issue we compromised. I can reimburse you for one-half your loss but it has to be associated with some other event such as your birthday or Christmas or something. If I choose to put a card with the gift, the card comes out of my golfing allowance. I can probably afford that as I didn't lose any balls yesterday.
Anyway, I will be working the web this weekend to try to locate somewhere to purchase One and One Half new golf balls. When is your birthday?
Regards,
Jim

Jim,
Your compassion brings tears to my eyes. It's saints like you that make the world go round. The added emphasis of bringing your wife in on the topic touched me.
Sadly, I must decline your offer of 1 and a half golf balls. It seems that someone with your astute talent of making up golf rules (illegal sand traps and bogus sand saves) and invoking a new millennium math for calculating golf scores (1 in the water, 4 in the trap, five over the green, six halfway to the green, 7 on the fringe, eight on the green, 4 putts =5) deserves every golf ball you can afford!
And remember, if you get lost driving home at night or you misplace your TV remote control, I suggest you follow the old ancient Scottish golf adage; "Look for the splash".
ciao,
Rod

Rod,
We are even = I found One & One Half New Golf Balls (the Floaters are Lagniappe = My Treat) & I have visual proof = Click Here!
L&S,
Mendy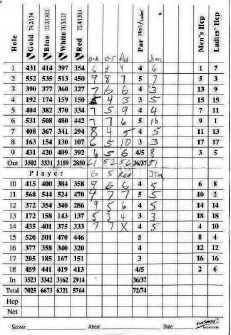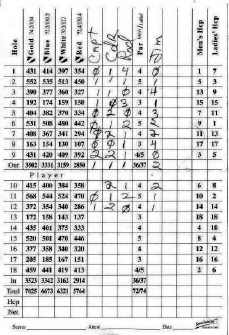 Very nice home page! Obviously Mendy is quite talented.
Thanks for putting that golf score card on the page. Anyone who knows you knows that my point about all of your "phantom" fives must be true!
Regards,
Rod

Date: Sun, 14 May 2000
From: Jim
To: Rod
CC: CDR
Subject: Rod's Golf Page
Rod,
Tiger called last night looking for some help on his short game. After I gave him a few hints we got to shooting the shee-itt.
He said not only did he remember meeting you but he really enjoys your golf page. He wanted to know if I was interested in speeding it up. I said sure so he gave me some hints. First he said that the pictures take too long to load so if I removed your pictures from the pages it would speed the pages up dramatically. So I did.
He called again this a.m. (the a-hole woke me) and thanked me for the golf pointers. He then said that the page had speeded up dramatically but was still a little slow & wanted to know if there were any pictures of any of your classmates on it. When I said yes, he suggested I delete those also. I did.
I haven't heard from him since and probably won't again till he starts having trouble with his game. Anyway, appears to me that removing those pictures speeded everything on Rod's Golf Page up dramatically. Take a look.
Regards,
Jim
P.S. = He also said that he tried the Wobbler on V. J. during the Masters. He said V. J. knew what was going on immediately because V. J. saw it on your golf page.
You are trespassing on Rod's Golf Page 1